Utilities
Provide your customers with flexible payment options that are available 24/7 with the QuotePro platform
Multilingual QuotePro utility bill payment kiosks serve as stand-alone payment centers available 24 hours a day, 7 days a week. Now you can easily accept all payment types and reduce the amount of time your office staff spends manually counting and handling cash payments.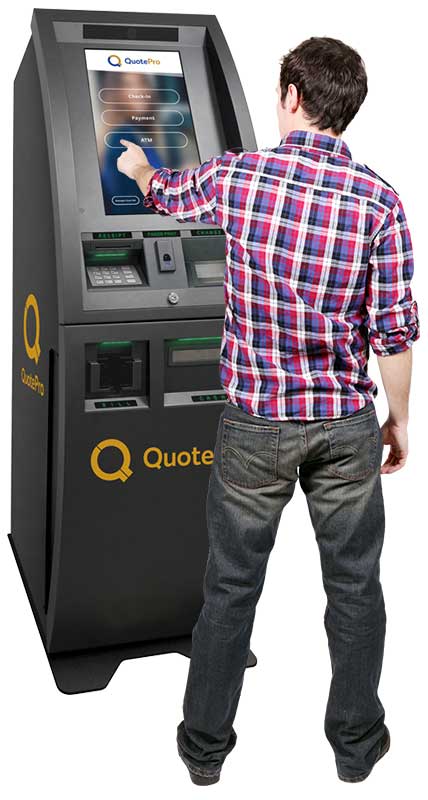 Kiosks for Utility Bill Payments
Flexible payment solutions with QuotePro kiosks 
The multilingual QuotePro kiosks will allow you to accept payments  in cash, credit, debit or ACH. Our kiosks are also equipped with an ID reader that can help you scan your customers' drivers licenses and automatically capture the data that you need to ensure compliance and safety. 
ATM Functionality
Cash, Card & ACH Payments
Cash Refunds
Custom Receipts
Doubles as Smart Safe
Retail Cash – Drawer Collection
Retail Cash – Drawer Funding
"Our QuotePro Kiosk allows our customers to pay their ENSTAR bills in cash, card or check 24/7/365 … it also provides custom reporting to reconcile our branch payments in minutes."
Christina Veltkamp
Manager, Customer Service and Collections at ENSTAR Natural Gas Company
Business Benefits
Discover the advantages of a QuotePro kiosk
We provide kiosk solutions that are customized to the needs of each business. Our clients across the country have discovered these advantages. Implementing a convenient QuotePro kiosk solves the most common payment concerns:
Mistakes made counting out change?
Not anymore. 
Office administrator called in sick?
Not a problem.
Employees feel unsafe transporting cash to the bank?
The armored car handles that now. 
Discrepancies between cash counted at the practice vs. what arrives at the bank?
The process with QuotePro is secure, automated and error-free.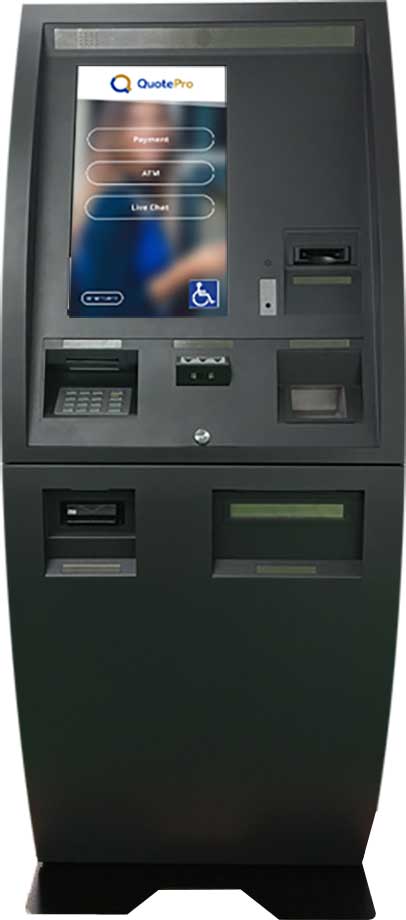 Business Benefit
A cashier
Kiosk serves as your cashier and exclusive on-site payment channel
Accepts all payment types including cash
Makes change and doubles as an ATM
Posts payments for earlier credit
Works 24/7/365
Business Benefit
Full cash management
Armored couriers collect cash from the kiosk and deposit it at your bank
Only the armored carrier has access to your safe, increasing securing and accountability
Employees never touch cash again
Business Benefit
In-depth reporting
Full transactional reporting delivered daily
Customized reports available online
Reconciliation reporting with each bank deposit
Key Benefit
The QuotePro platform advantage
24/7 Access
Become accessible all-day, every day, for your customers with our outdoor kiosks and mobile app.
Customization
Customize our platform to suit your dealership's needs and highlight what's important to your customers.
Automate
Automate your sales process and put customers on the drivers seat with the our flexible platform.
Case Studies
Learn about the businesses that are growing with our digital kiosk system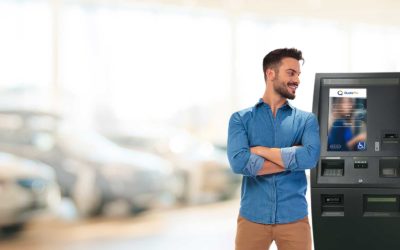 By Marco Freudman, President, QuotePro With all the additional costs that dealerships face today, it can be challenging to find ways to save money while still catering to your customers' wants and needs. Fortunately, there is a solution that can lower sales and...