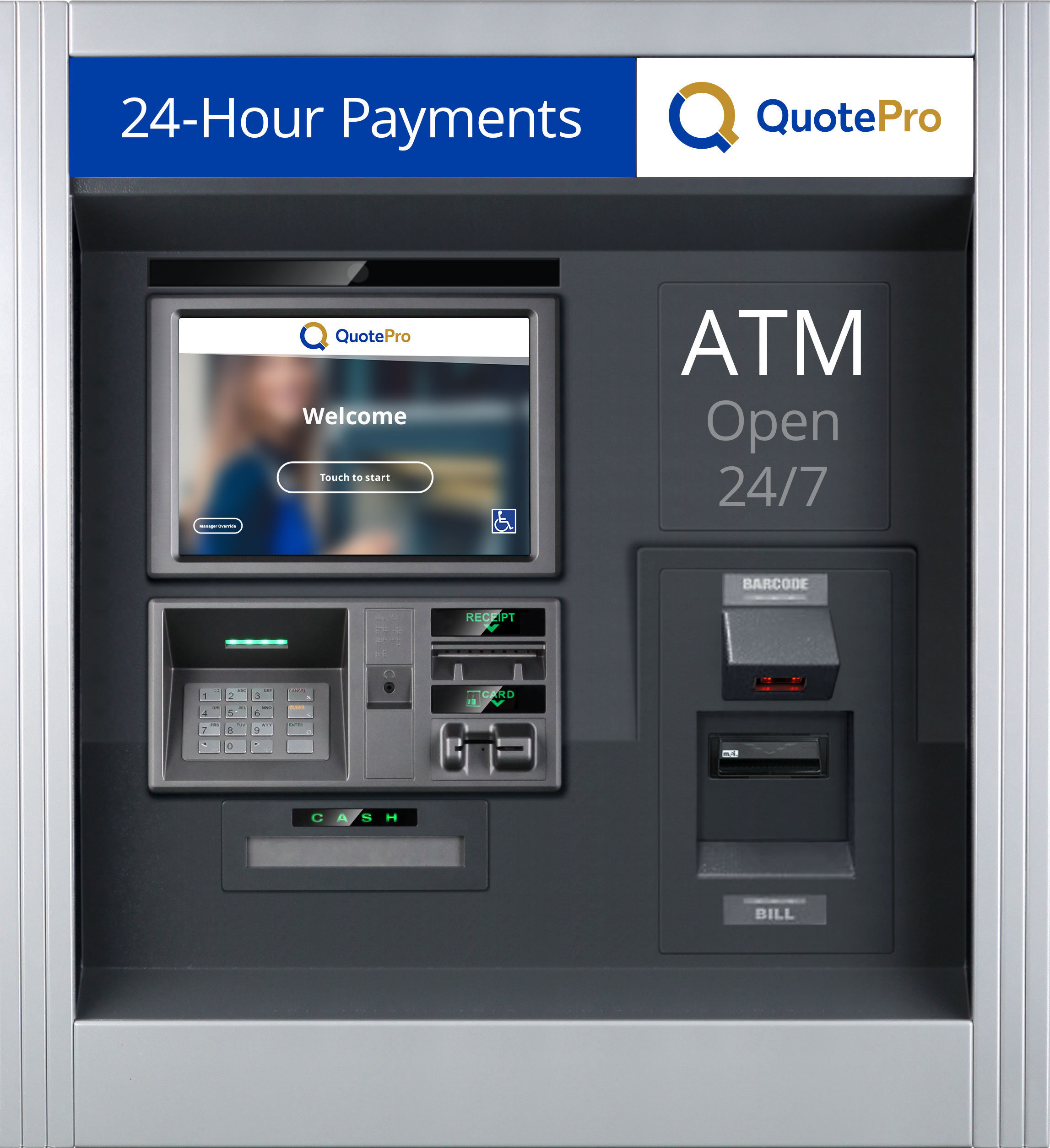 Cashiering kiosk
Through-the-Wall Kiosk TTW
This wall-mounted kiosk model is ideal for businesses that need their kiosk available 24/7 and wall mounted. It will accept and dispense cash while also offering your customers other payment methods such as check or card payments
CHECK SCANNER
Image quality: 200dpi Monochrome or
400dpi 24 Bit Color
UPS
AP350, Input 120V 50-60Hz ±3Hz, 210W/350VA
FINGER PRINT SCANNER
U.are4500, USB interface
TOPPER
High brightness topper
CARD DISPENSER
Card stacking capacity: 500pcs, encode/decode data on ISO 1,2,3 tracks of magnetic stripe card
SIDECAR
Up to 2x bill acceptor: SCN series, AE-2800, BNR SCR. Up to 3×2000 note removable cassette money order printer. Print text and graphics. Optimum print speed is five seconds per form.
BILL LOADER
Loads up to 40 bills sequentially
DIMENSIONS
Height: 65″
Width: 20.8″
Depth: 27.9″
Weight: 595 lbs
POWER REQUIREMENTS
110/220V +/-10% 50/60Hz, 145 Watts
TEMPERATURE REQUIREMENTS
In-storage: 32ºF – 104ºF (0ºC – 49ºC)
While Operating: 45ºF – 95ºF (5ºC – 35ºC)
ALLOWABLE HUMIDITY
In storage: 10% < RH < 90%, non-condensed
While operating: 15% < RH < 85%, non-condensed
LED SCREEN
High-res 21.5" touch screen LCD panel 1920×1080 full HD resolution
BARCODE SCANNER
Honeywell 3310G, available scan of all 1D, 2D, PDF, QR codes and driver's licenses
PIN ENTRY DEVICE
16-key Alphanumeric keypad PCI 3.0 certified EPP (Encrypting Pin Pad) Triple-DES (TDES) compliant EPP
ADA COMPLIANT
Voice guidance. Lighted transaction guidance. Accessible keypad layout. Wheelchair accessible.
SECURITY
Electronic lock. A-series lock
PC PLATFORM
Intel i5-7500 Processor, Windows 10 IoT Enterprise, 250GB
HD CAMERA
Microsoft High-definition Webcam
LIVE VIDEO CHAT
Connect visitors with live customer call center representative that can assist and record customer conversations in real-time
MULTI-NOTE BILL ACCEPTOR
Up to 3 bill acceptors each with 2,200 note capacity
PRINTER
80mm thermal receipt printer, automatic paper loading and cutting. 40 characters per line
CARD READER
Motor driven card reader. Dual side card scan. Image size: 1024×600 color/gray. Feed speed: 450mm/sec ±10%
COIN DISPENSER
3 denomination coin dispenser
CASH DISPENSER
Up to 3 bill dispensers each with 2,000 note capacity
interactive kiosks
Explore our other kiosk models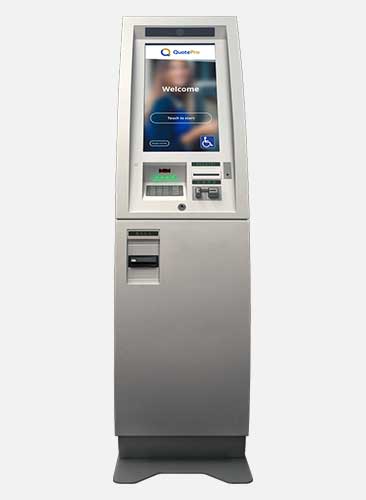 Universal Kiosk UK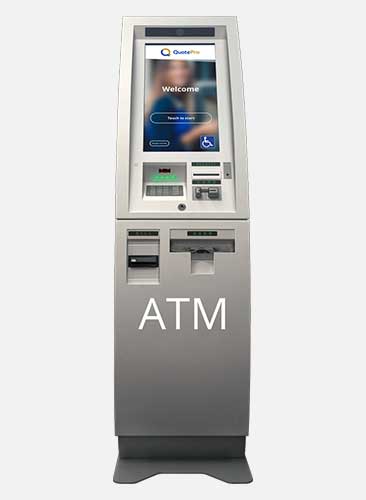 Universal Kiosk UK-D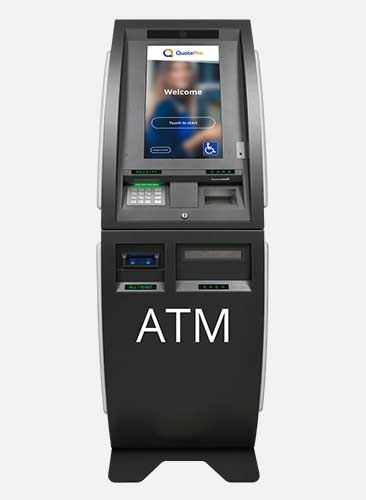 Universal Kiosk UK-XLC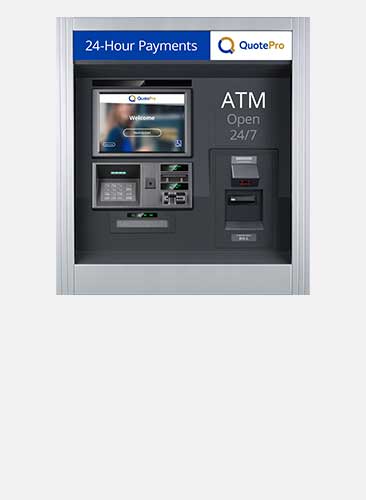 Through-the-Wall Kiosk TTW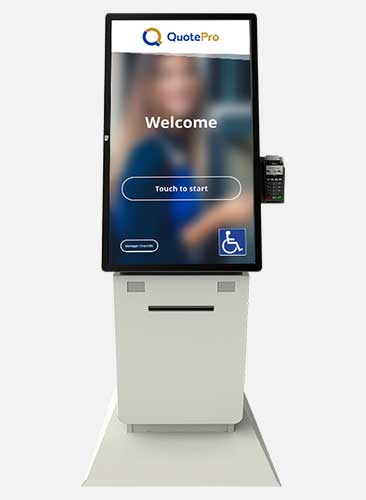 Card-Only Kiosk CO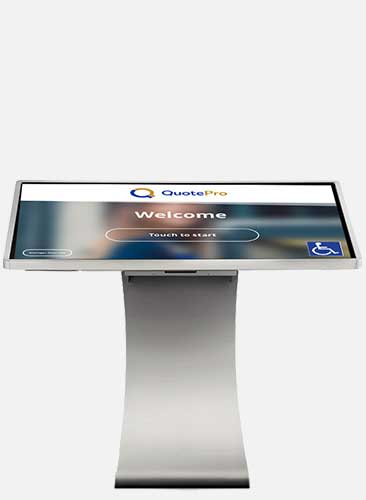 Lobby Kiosk