QuotePro Ticket Vending Machines accept any form of payment in seconds – including cash, debit and credit cards. They even make change, right down to the penny if needed, and can also double as an ATM.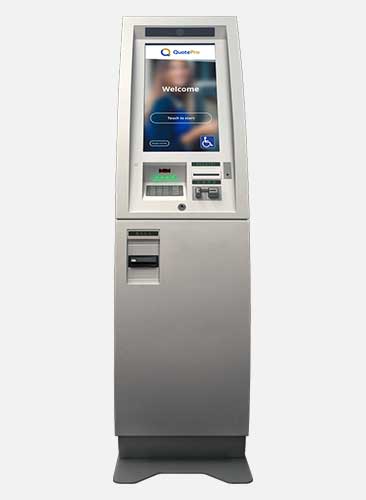 Universal Kiosk UK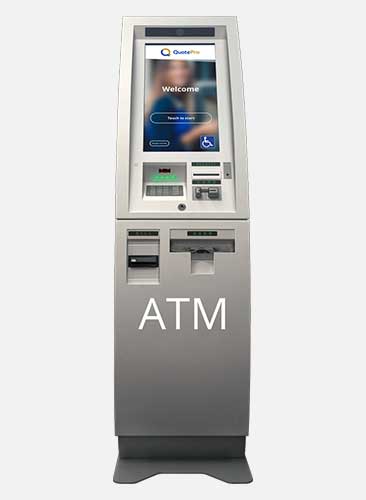 Universal Kiosk UK-D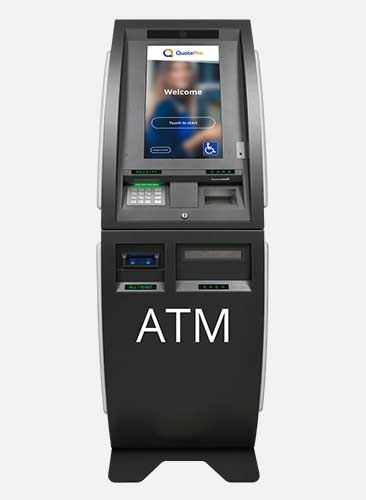 Universal Kiosk UK-XLC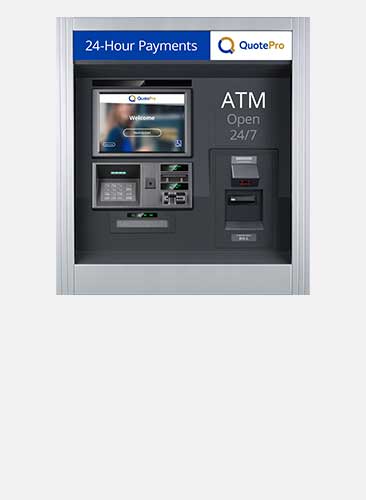 Through-the-Wall Kiosk TTW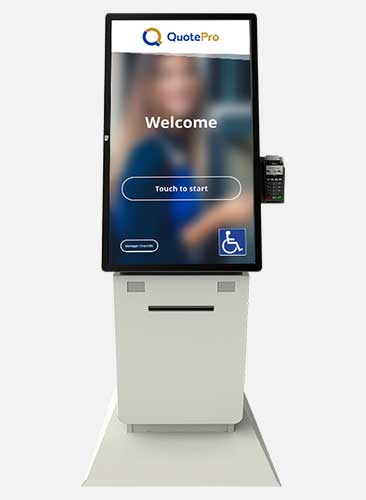 Card-Only Kiosk CO
Kiosks for Transit
Flexible payment solutions with QuotePro kiosks 
QuotePro payment kiosks accept any form of payment in seconds – including cash, debit and credit cards. They even make change, right down to the penny if needed, and can also double as an ATM.
Our user-friendly interface is bilingual, in both English and Spanish. Self-service payments can be processed in less than 60 seconds. Best of all, we now offer provisional cash, meaning payments deposited in the kiosk are available in your business account within 24 hours. No more cash tied up in teller drawers.
Accept cash & coin while dispensing change in both cash & coin
Accepts card and contactless payments
Multistock ticket printing
Provisional cash services to administer full cash management of your TVM network
Integrations with processors, software systems and payment systems
Service level agreements that include full technical & onsite maintenance as well as phone support
Multilingual
Fully customizable
Indoor/Outdoor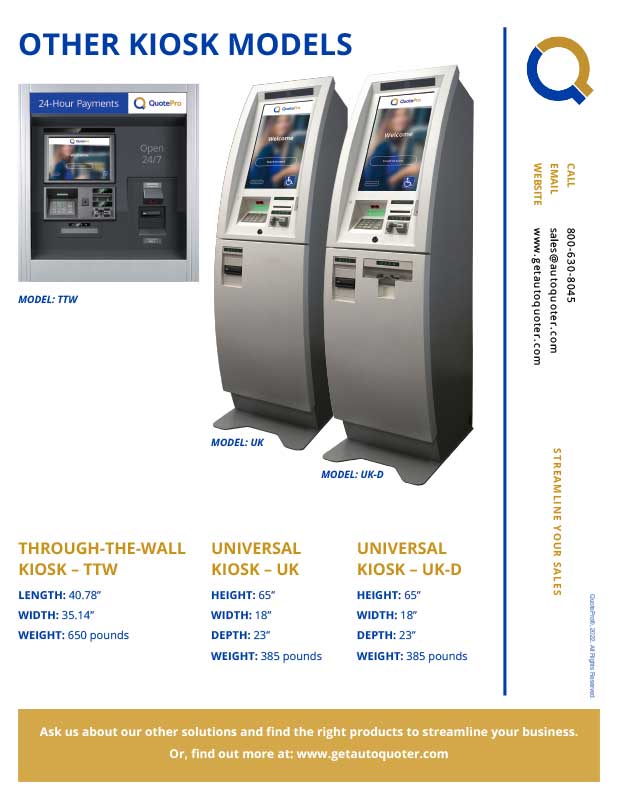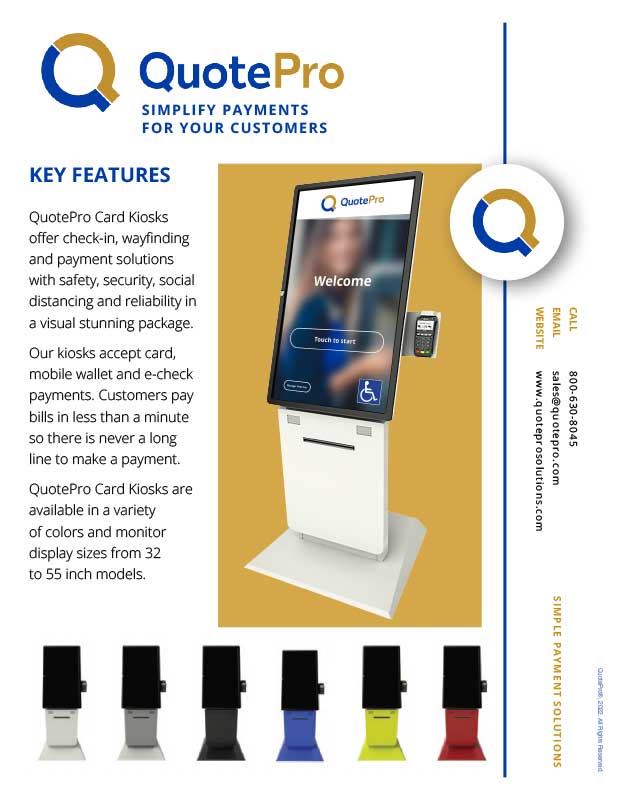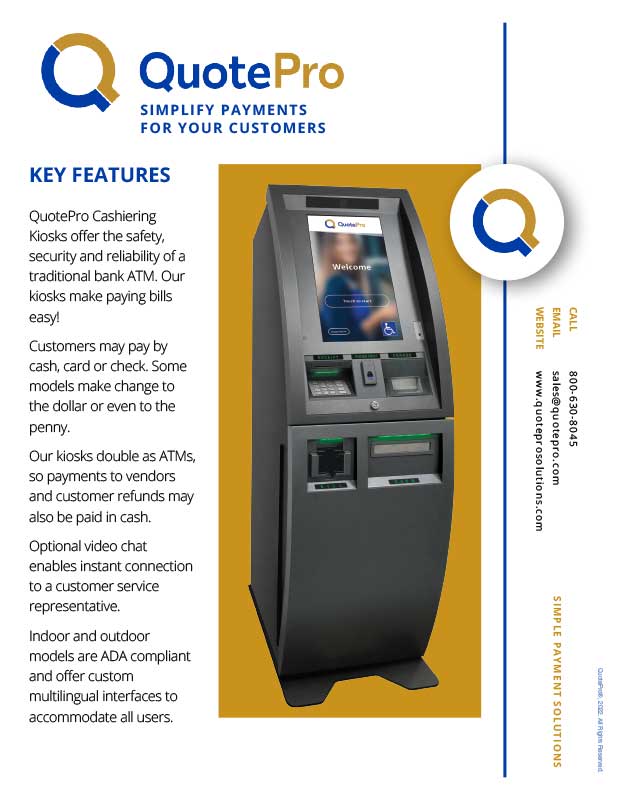 FREE DOWNLOAD
Download our kiosk brochures 
Learn more about how our cashiering and card kiosks can offer your customers a superior experience and how you can customize their features to fit your needs.
Our brochures includes the following:
f

Key Features



Components



Optional Features



Kiosk Models



Specs
Mobile Apps for Transit
A feature-rich experience for your insurance customers 
QuotePro's mobile apps make it easy for customers to make payments and contact you, all from their mobile device.  
Our app can be customized with your branding and with the features that make sense to your customers.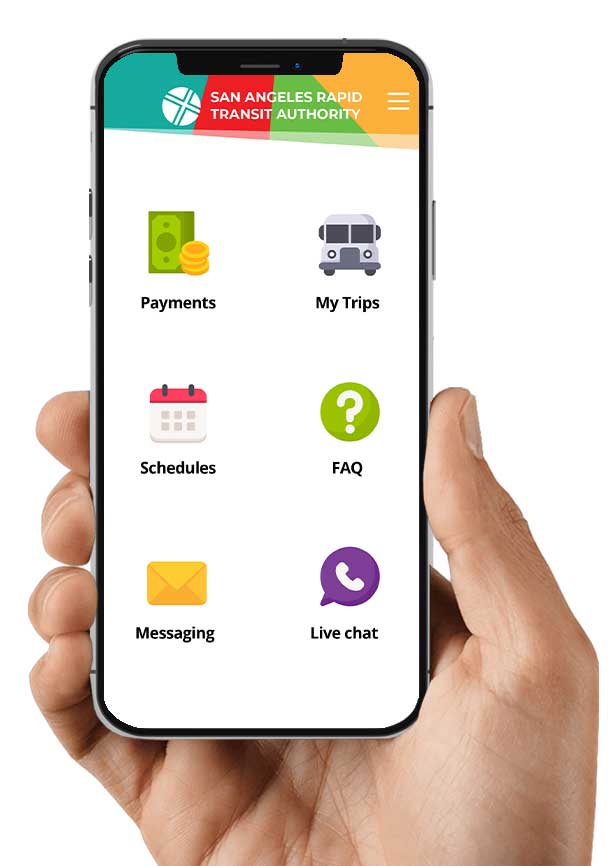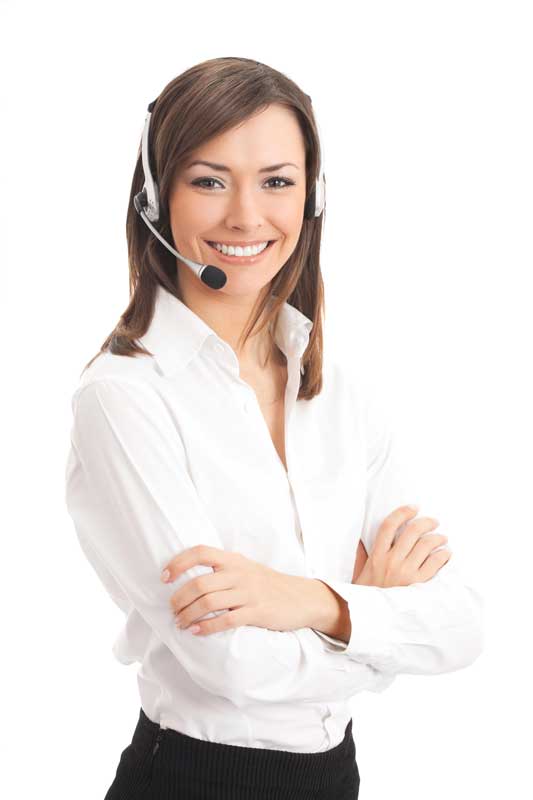 Call Center
A great use of push-pull technology
Push: Our outgoing call feature alleviates much of the manual support required by your office for payments, renewals and collections. Let our automated call features handle these tasks, so your customer service representatives can be free to handle more knowledge-based inquires or sales.
Pull: Your customers can call in at their convenience. Then, by following simple voice prompts and with the touch of a few buttons, they can instantly make payments, learn their next payment due date, and more. No waiting for a representative for service, and no need to send paperwork in the mail.
Key Benefit
The QuotePro platform advantage
24/7 Access
Become accessible all-day, every day, for your customers with our outdoor kiosks and mobile app.
Customization
Customize our platform to suit your dealership's needs and highlight what's important to your customers.
Automate
Automate your sales process and put customers on the drivers seat with the our flexible platform.
Case Studies
Learn about the businesses that are growing with our digital kiosk system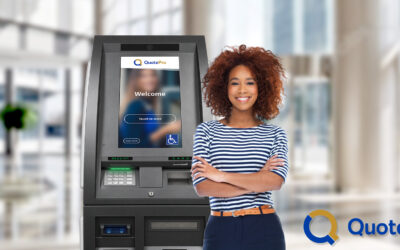 QuotePro is pleased to announce it has been awarded a U.S. patent for innovative cash services software that works with QuotePro® Kiosks. Find the full patent here: https://ppubs.uspto.gov/dirsearch-public/print/downloadPdf/11501273 QuotePro...