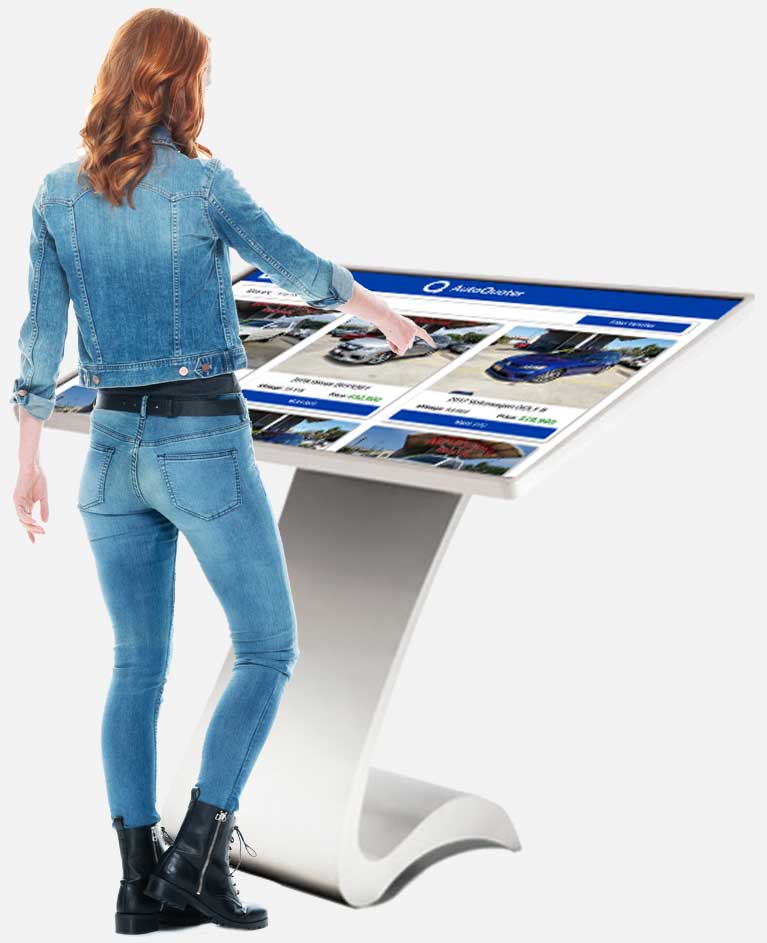 Showroom kiosks
bring your customers an intuitive sales experience with the showroom kiosk, a show stopper kiosk that will boost your engagement rate
Key Features
Increase engagement and boost customer satisfaction
Regardless if your sales team is busy during peak hours or if you're understaffed, you can rest assured that our QuotePro showroom kiosk will keep your customers engaged. Even during days when the weather is less than ideal, your customers will be able to narrow their search by exploring your inventory and individual vehicle features from the comfort of your showroom.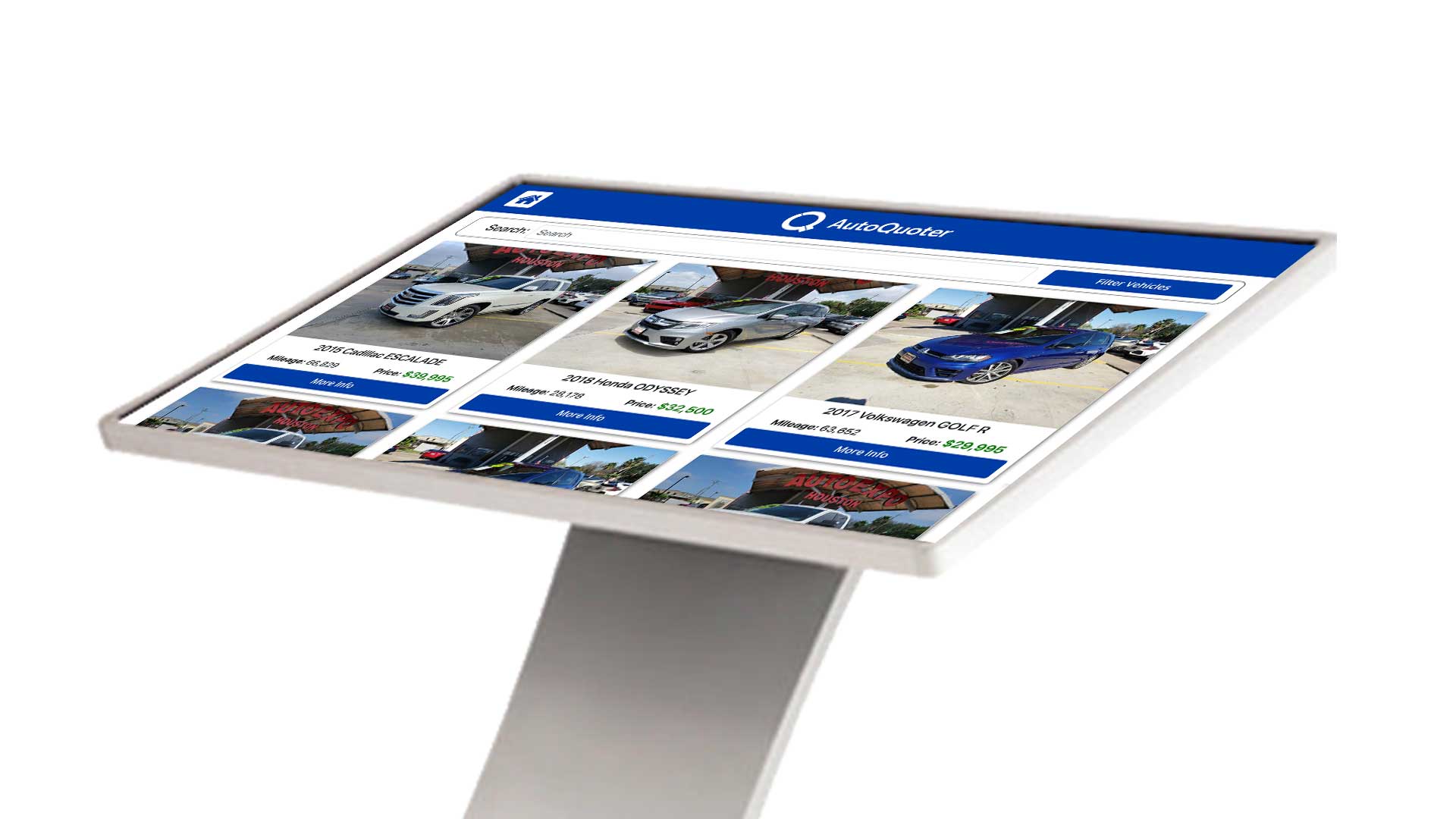 Check-in
Customers can quickly check in upon arrival
Appointments
Customers schedule appointments directly on-screen
QR Code
Scan a QR Code at any point to move your interaction to the mobile app
Product Selection
Display your complete product selection and allow customers to scroll and swipe using our intuitive user interface
Screen
Our 49″ touchscreen monitor provides a beautiful surface for your content to be displayed in 4k resolution.
Complete Transactions
Complete transactions on the showroom kiosk via card payment or using a QR code
Orientation
We offer 2 configurations for the showroom kiosk, vertical or horizontal.
Adjusting to the new normal
Covid-19 and your business
Covid-19 has changed the way that companies do business. For many, the need for social distancing and to limit customers has severely impacted revenue. QuotePro kiosks allow your business to minimize your staff's exposure to customers while also increasing the throughput.
Social Distancing
One customer per kiosk
Kiosks service customers individually in clearly marked locations, allowing them to quickly move in and out of your store
Sanitary Solution
Easy-to-clean
QuotePro digital kiosks can be easily cleaned with a non-abrasive disinfectant solution
Lower Risk
Fewer employees
Fewer employees will be necessary as cashiers when a QuotePro kiosk handle sales transactions
Decrease Contact
Limit interaction
QuotePro kiosks decrease contact between customers and employees by limiting the need for direct interaction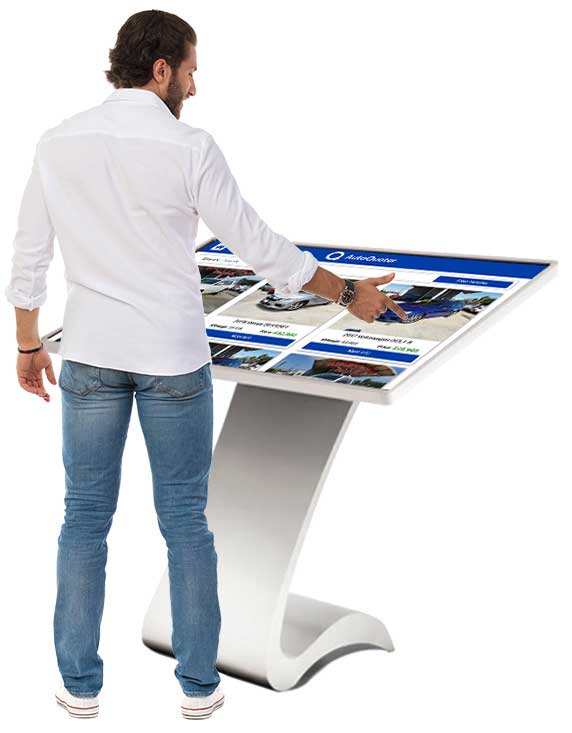 About the Showroom Kiosk
Simplify check-in and sales for your customers with a QuotePro kiosk
QuotePro showroom kiosks bring your customers an intuitive experience on our beautiful 49″ touchscreen kiosk. They may start by checking in on the kiosk to notify your staff that they are there as a walk-in customer, or to their scheduled appointment. 
Your customers may then explore your complete product selection at their own pace. The QuotePro showroom kiosk creates a full multimedia interactive experience where your customers will engage with your product selection instead of sitting idly and impatiently in your showroom, waiting for available staff to get started.
Business Benefits 
Boost engagement with the QuotePro showroom digital kiosk
Automates scheduling and sales
49″ 4K LED touchscreen
Enjoyable and consistent sales and service experience
Integrated 700Credit services
Instant credit pre-approval
Data posts in real-time
Integrated Cox Automotive Financing

Interface is available in both English and Spanish

Customize the content, graphics, and adding video advertising

Americans with Disabilities Act (ADA) – Meets ADA guidelines

Includes complete warranty and service plan
Promotes safety through social distancing
Easy to maintain and keep clean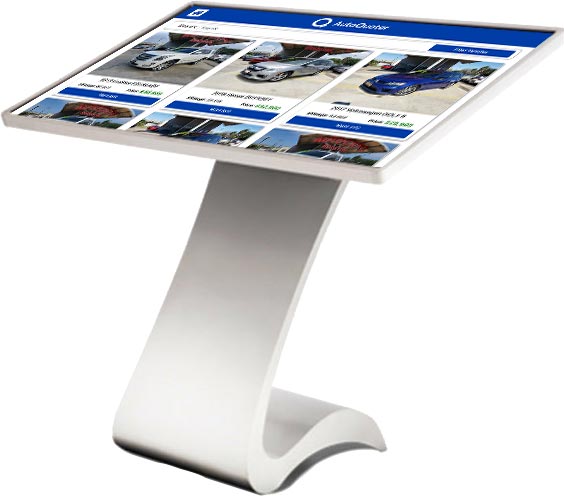 The latest
News, articles and case studies about QuotePro and our solutions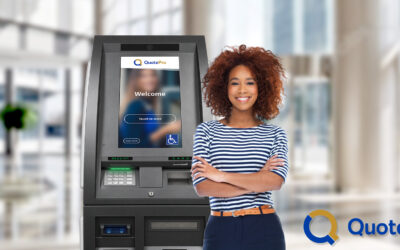 QuotePro is pleased to announce it has been awarded a U.S. patent for innovative cash services software that works with QuotePro® Kiosks. Find the full patent here: https://ppubs.uspto.gov/dirsearch-public/print/downloadPdf/11501273 QuotePro...