The QuotePro platform eliminates the headaches and frustrations traditionally associated with accepting cash, card and ACH payments. All QuotePro kiosks are built on an ATM platform that provides the safety, security and reliability found in a traditional bank ATM. Typical healthcare payments are processed in less than 60 seconds which makes happy patients. Our online reporting services make reconciling kiosk payments a breeze.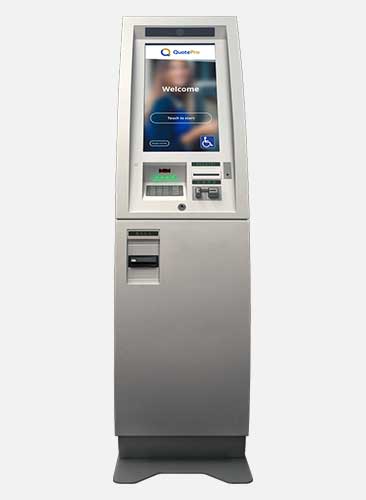 Universal Kiosk UK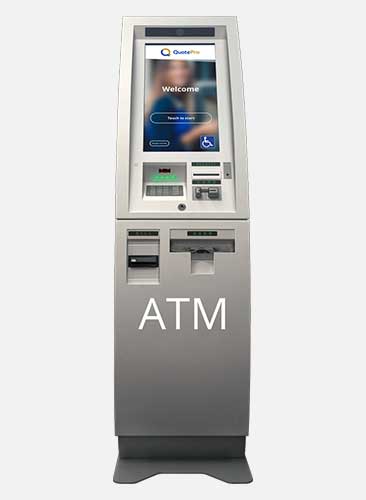 Universal Kiosk UK-D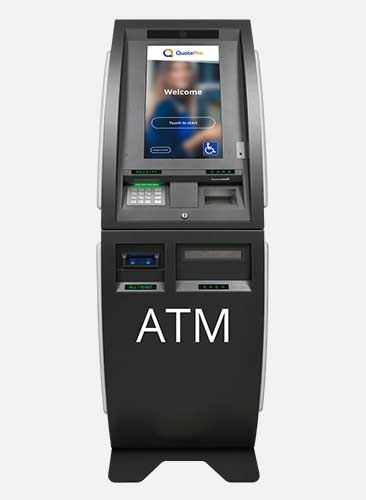 Universal Kiosk UK-XLC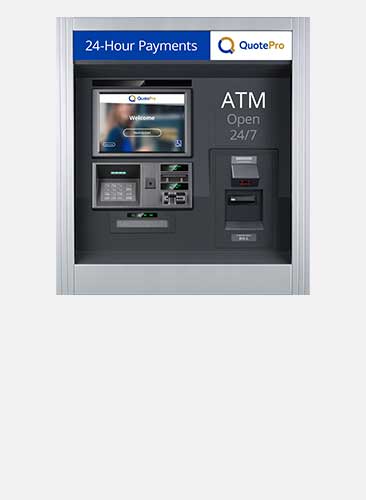 Through-the-Wall Kiosk TTW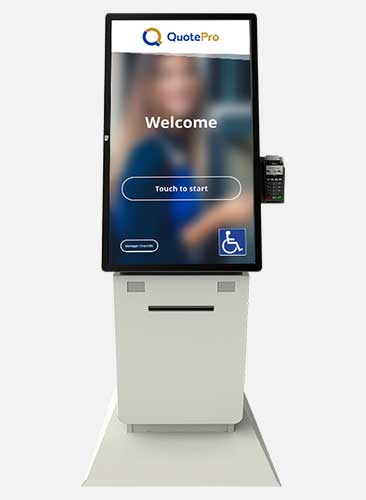 Card-Only Kiosk CO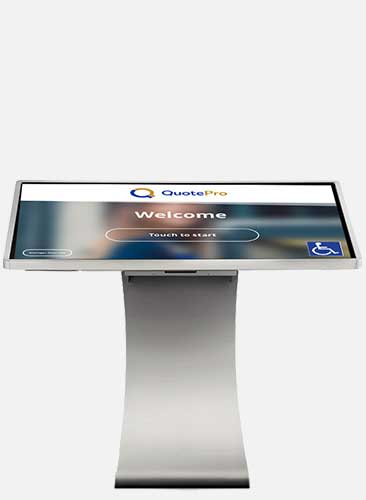 Lobby Kiosk
Kiosks for Healthcare providers
Simplify cash management and wayfinding with QuotePro kiosks 
QuotePro Cashiering Kiosks will allow you to accept co-payments and deductible payments in cash, credit, debit or ACH. Our kiosks are also equipped with an ID reader that can help you scan your customers' drivers licenses and automatically capture the data that you need to ensure compliance and safety.
QuotePro Showroom Kiosks add wayfinding functionality on a touchscreen monitor that will let your customers find all offices and buildings with pinpoint accuracy. 
Video Walk Through
A self-service digital kiosk for healthcare
The QuotePro Cashiering Kiosk is designed to fit the needs of your business. Our platform is highly customizable and allows you to integrate cash dispensers, card scanners, IR scanners, change dispenser, fingerprint scanner, cameras, a multi-bill acceptor in a bilingual system that is 100% ADA compliant.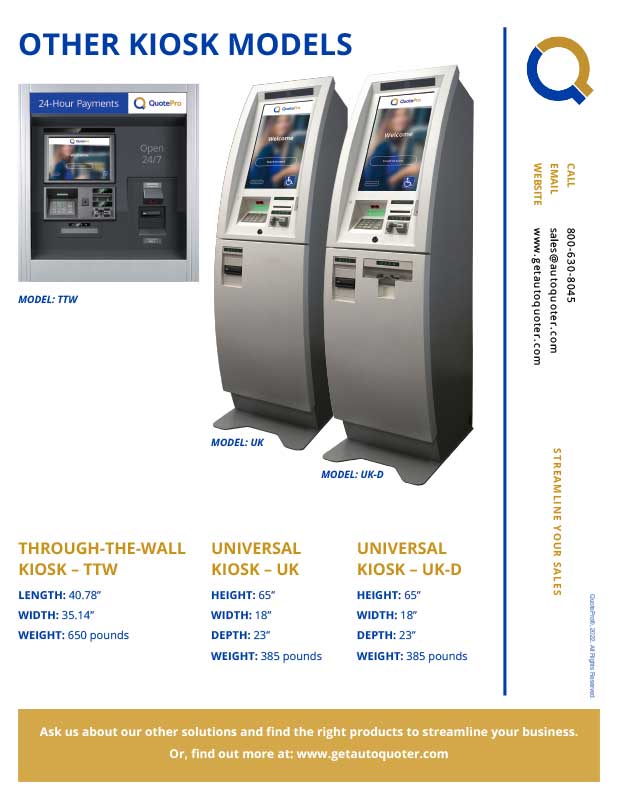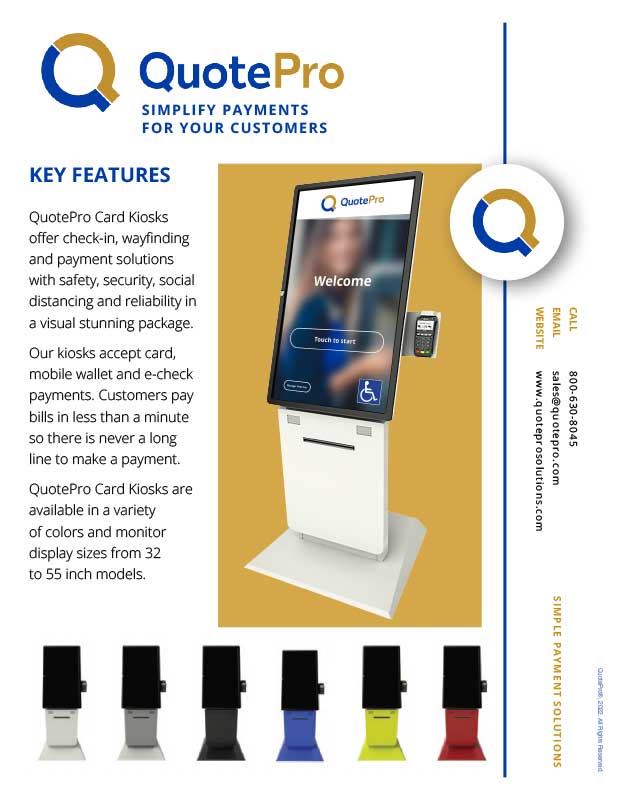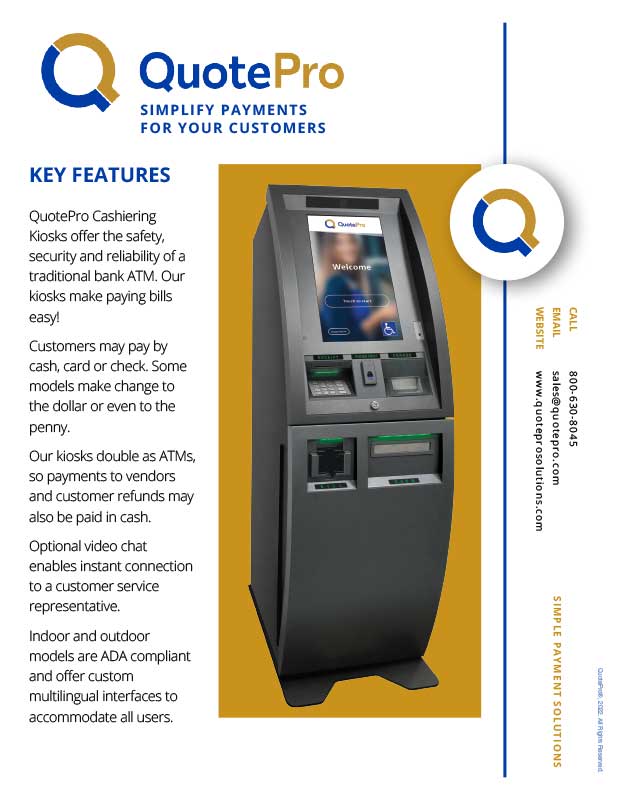 FREE DOWNLOAD
Download our kiosk brochures 
Learn more about how our cashiering and card kiosks can offer your customers a superior experience and how you can customize their features to fit your needs.
Our brochures includes the following:
f

Key Features



Components



Optional Features



Kiosk Models



Specs
Mobile Apps for Healthcare Providers
A feature-rich experience for your customers 
QuotePro's mobile apps make it easy for customers to make payments and contact you, all from their mobile device.  
Our app can be customized with your branding and with the features that make sense to your customers.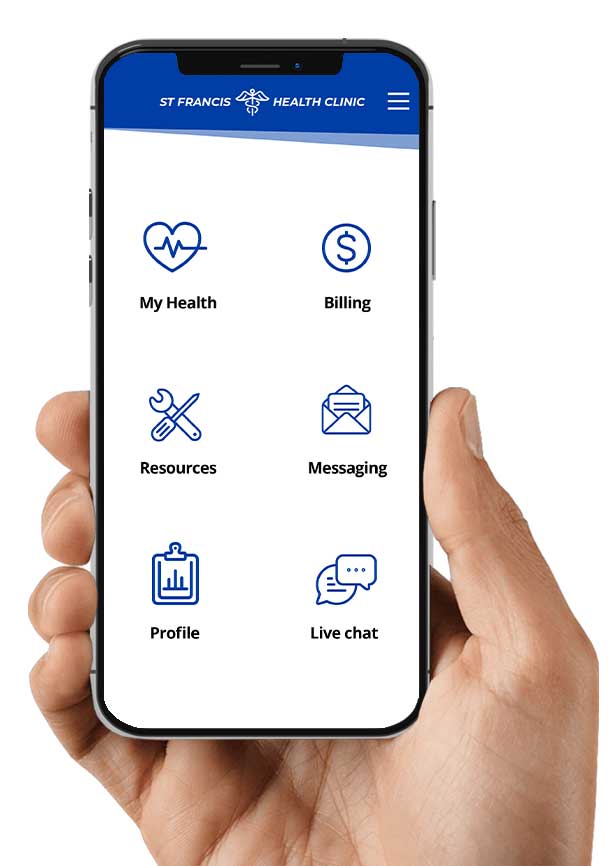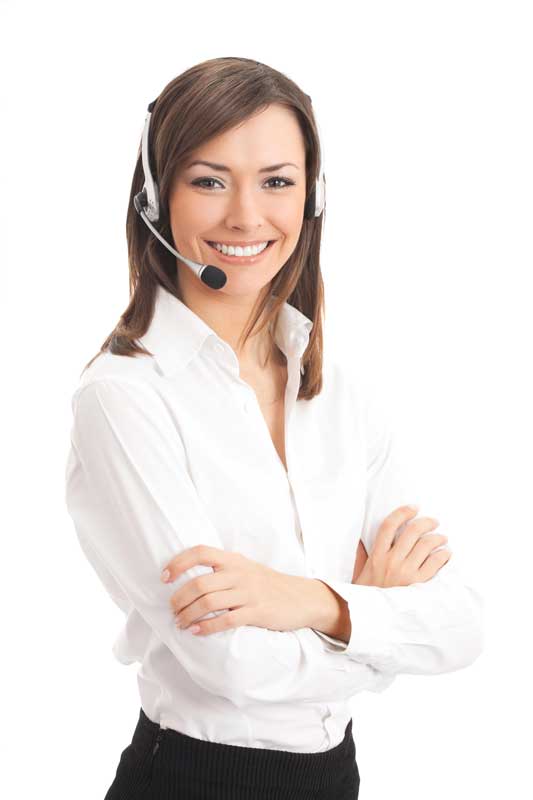 Call Center
A great use of push-pull technology
Push: Our outgoing call feature alleviates much of the manual support required by your office for payments, renewals and collections. Let our automated call features handle these tasks, so your customer service representatives can be free to handle more knowledge-based inquires or sales.
Pull: Your customers can call in at their convenience. Then, by following simple voice prompts and with the touch of a few buttons, they can instantly make payments, learn their next payment due date, and more. No waiting for a representative for service, and no need to send paperwork in the mail.
"Magnum's cash preferred client's use the QuotePro Kiosk because it is multilingual and easy to use, it accepts and dispenses cash. It automatically text's our customer's proof of insurance which they LOVE!"
Chris Roman
Vice President, Magnum Insurance
Business Benefits
Discover the advantages of the QuotePro platform for healthcare
We provide kiosk solutions for hospitals and payments centers that are customized to the needs of each client. Healthcare providers across the country have discovered these advantages:
Implementing a convenient QuotePro kiosk solves the most common payment concerns.
Mistakes made counting out change? Not anymore. 
Office administrator called in sick? Not a problem.
Employees feel unsafe transporting cash to the bank? The armored car handles that now. 
Discrepancies between cash counted at the practice vs. what arrives at the bank? The process with QuotePro is secure, automated and error-free.

 
Business Benefit
A cashier
Kiosk serves as your cashier and exclusive on-site payment channel
Accepts all payment types including cash
Makes change and doubles as an ATM
Posts payments for earlier credit
Works 24/7/365
Business Benefit
Full cash management
Armored couriers collect cash from the kiosk and deposit it at your bank
Only the armored carrier has access to your safe, increasing securing and accountability
Employees never touch cash again
Business Benefit
In-depth reporting
Full transactional reporting delivered daily
Customized reports available online
Reconciliation reporting with each bank deposit
Key Benefit
The QuotePro platform advantage
24/7 Access
Become accessible all-day, every day, for your customers with our outdoor kiosks and mobile app.
Customization
Customize our platform to suit your dealership's needs and highlight what's important to your customers.
Automate
Automate your sales process and put customers on the drivers seat with the our flexible platform.
Case Studies
Learn about the businesses that are growing with our digital kiosk system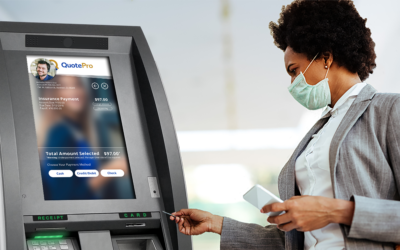 Social distancing is vital in many public settings today but perhaps none more so than in healthcare facilities. As an essential business, healthcare facilities have remained open since the beginning of the pandemic, having to adjust to safety protocols as they...