Ticket Vending Machine (TVM) Kiosks
Accept Cash, Debit and Credit Cards
Print multi-stock tickets instantly
QuotePro payment kiosks accept any form of payment in seconds – including cash, debit and credit cards. They even make change, right down to the penny if needed, and can also double as an ATM.
Our user-friendly interface is bilingual, in both English and Spanish. Self-service payments can be processed in less than 60 seconds. Best of all, we now offer provisional cash, meaning payments deposited in the kiosk are available in your business account within 24 hours. No more cash tied up in teller drawers.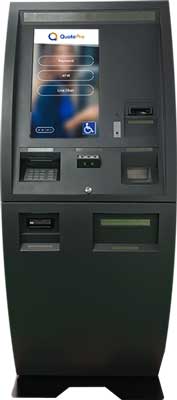 Payments done in 60 seconds!
Ticket Vending Machine Kiosks
We make Ticket Vending Machines (TVMs) to spec, please contact Chris Albu (
albu@quotepro.com
) for details on the full suite of customizations available.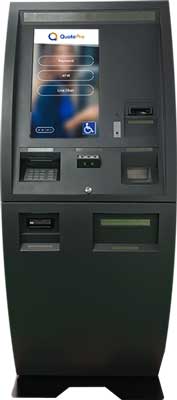 Accept cash & coin while dispensing change in both cash & coin
Accepts card and contactless payments
Multistock ticket printing
Provisional Cash Services to administer full cash management of your TVM network
Integrations with processors, software systems and payment systems
Service Level Agreements that include full technical & onsite maintenance as well as phone support
Multilingual
Fully customizable
Indoor/Outdoor
Go to our Industry section to learn how others use our kiosks