Financial Institutions
The QuotePro platform provides financial institutions a flexible platform that is accessible to them all-day, every day
QuotePro Kiosks are perfect for extending your financial institution's presence into new markets without the cost of a branch. For alternative lenders and pawn shops, this gives you unprecedented options to engage with your customers.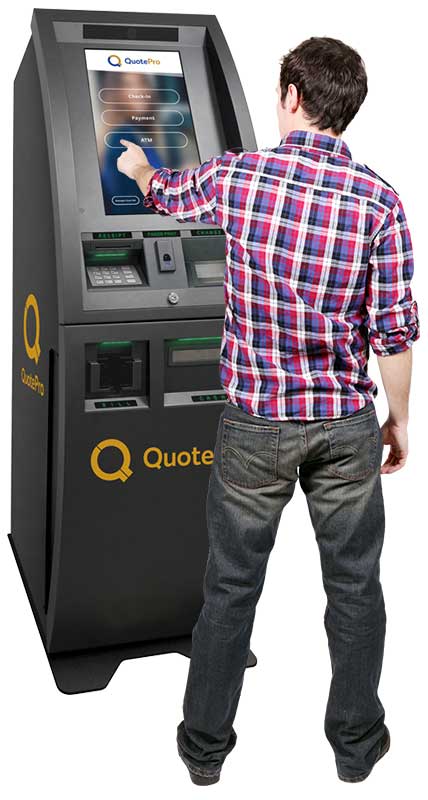 Kiosks for Financial Institutions
Flexible payment solutions with QuotePro kiosks 
Accept bill payments by cash, card or check, give change, dispense cash and offer payroll disbursements. Our kiosks provide self-service for the most frequently requested banking functions. Built on an ATM platform, QuotePro Kiosks provide the safety, security and reliability that banks and credit unions need.  
Our kiosks are a truly customizable platform, that can be custom branded with your logo and colors. To learn more please contact us sales@quotepro.com.
ATM Functionality
Cash, Card & ACH Payments
Bill Payments
Cash Refunds
Cashier Drawer Funding
Custom Receipts
Cashier Deposits
Driver's License Scanner
Doubles as a Smart Safe
Loan Applications
Loan Payments
Money Transfer
Payroll Disbursements
Expand your footprint without adding branches. QuotePro Kiosks will accept cash, checks, debit and credit cards and make change to the penny.
Business Benefits
Discover the advantages of a QuotePro kiosk
We provide kiosk solutions that are customized to the needs of each business. Our clients across the country have discovered these advantages. Implementing a convenient QuotePro kiosk solves the most common payment concerns:
Mistakes made counting out change?
Not anymore. 
Office administrator called in sick?
Not a problem.
Employees feel unsafe transporting cash to the bank?
The armored car handles that now. 
Discrepancies between cash counted at the practice vs. what arrives at the bank?
The process with QuotePro is secure, automated and error-free.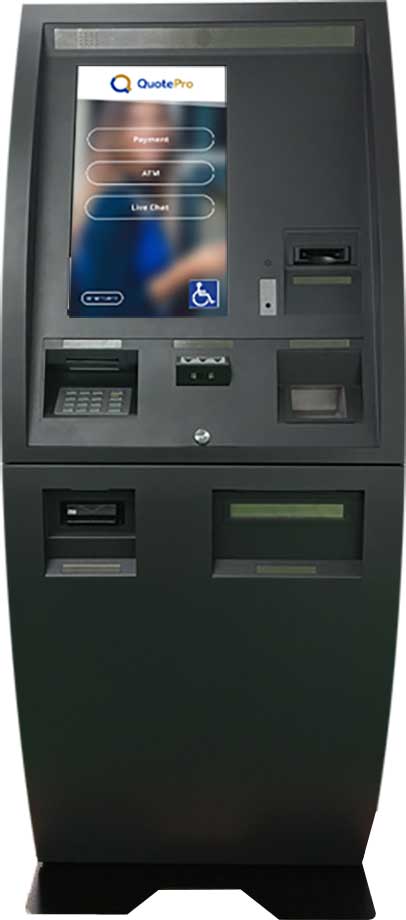 Business Benefit
A cashier
Kiosk serves as your cashier and exclusive on-site payment channel
Accepts all payment types including cash
Makes change and doubles as an ATM
Posts payments for earlier credit
Works 24/7/365
Business Benefit
Full cash management
Armored couriers collect cash from the kiosk and deposit it at your bank
Only the armored carrier has access to your safe, increasing securing and accountability
Employees never touch cash again
Business Benefit
In-depth reporting
Full transactional reporting delivered daily
Customized reports available online
Reconciliation reporting with each bank deposit
Key Benefit
The QuotePro platform advantage
24/7 Access
Become accessible all-day for your customers with our outdoor kiosks and mobile app.
Customization
Customize the QuotePro platform to suit your dealership's needs and highlight what's important to your customers.
Automate
Automate your sales process and put your customers on the drivers seat. Give them the flexibility they need with the QuotePro platform.
Case Studies
Learn about the businesses that are growing with our digital kiosk system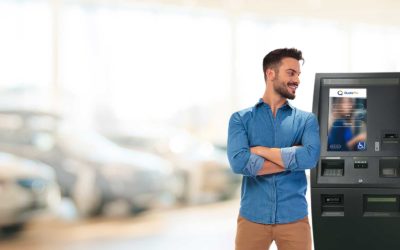 By Marco Freudman, President, QuotePro With all the additional costs that dealerships face today, it can be challenging to find ways to save money while still catering to your customers' wants and needs. Fortunately, there is a solution that can lower sales and...